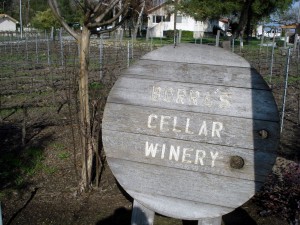 In what our winemaker, Markus Niggli, described as a "seven week ordeal," over 150 acres of Borra Vineyards are now pruned.
This massive yearly project involves a crew of six field workers led by our vineyard foreman, Manuel Maldonado, cutting down dormant shoots to two-bud spurs, making each vine look like a pair of manicured moose antlers. All the cuttings are allowed to drop to the ground to be chopped up this week, enriching the soil.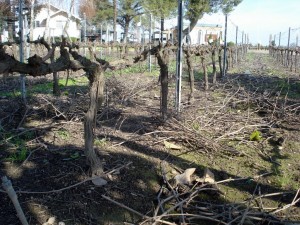 Ideally, one variety of winegrapes is pruned before another in roughly the order they bud out each March. For our vineyards, that means we prune Zinfandel first, over in our Clements Gill Creek Ranch, followed by Chardonnay, Merlot and Viognier, before switching to our Home Ranch on Armstrong Road to prune Barbera and Merlot.
This year, with all the heavy rain we received in December, we wound up pruning the Chard last. According to Markus the field was so muddy that, "You were just sinking knee-deep into it." Earlier this month Markus spent a half day helping to cut back the Petite Sirah so as to, "not lose the touch of how to prune. It was sunny and nice."
The next few weeks the crew will be maintaining the vineyards: replacing ties that hold vine cordons onto wires; lowering shoot-positioning wires so they can be raised later in the season; and repairing the trellis cross arms.
What's also receiving some tender loving care is the irrigation system. In many areas it may look like a vineyard is dry-farmed, but there may actually be sub-surface drip lines buried perhaps a foot into the dirt, as was done with the Home Ranch.
Some sections of the Merlot that is planted north of the tasting room have had the drip lines clog up, which is sometimes only noticed late in the season when a few vines start drying up.
Those lines get replaced by regular drip lines that run maybe half a foot above ground level along the vine row. The good thing about these lines is that you can see right away if they are working properly. The bad thing is that the coyotes can take a bite and make their own drinking fountain – not the best thing in the world for growing high-quality winegrapes.