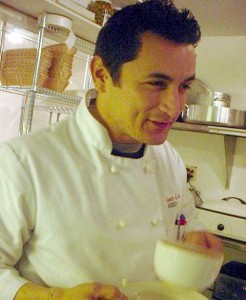 Seems we've been staying pretty busy behind-the-scenes over the last couple of months, working with local Chef Buddy O'Dell and his "Gourmet Club s.j." on an exquisite five course "Spring Wine Dinner," which you are invited to attend on Thursday, May 19, 2011 from 6 to 9 p.m. at Buddy's place on 678 Grider Way, Stockton, CA, near Lower Sacramento and Bear Creek Roads.
In case you aren't familiar with him, Buddy was literally raised in the fields of Lodi and has developed an infectious passion for his backyard regional farmers, growers, and food producers. His menus reflect the bounty of the valley, seasonal healthy eating, and the wonderful wines of San Joaquin. This dinner is to celebrate the continuation of his favorite project, the Gourmet Club.
If you're reading this near dinner time, we apologize for tempting you and getting your unruly stomach growling, but here are the courses for this scrumptious feast, all finely tuned to pair with our Borra wines:
---
One
Hors D 'Oeuvres served fireside on the patio
Paired with 2010 Members Reserve Rosé Lodi
House smoked salmon, egg salad, capers, and chervil on rye toasts
Mushroom spring rolls with daikon radish, snow peas, green onions, and chili dipping sauce
Raspberry barbeque chicken skewers with lemon yogurt sauce
Two
Paired with 2010 White Fusion Lodi
Roasted Sea Bass, sierra gold potatoes, spring onion, asparagus, peas and mint
Three
Paired with 2006 Old Vine Barbera Lodi
Arugula and Spinach Salad with strawberries, navel oranges, daikon radish, tarragon, citrus vinaigrette and balsamic syrup
Four
Paired with 2010 Members Reserve Chardonnay Lodi
Grilled Pork Tenderloin, spring bean ragu with bacon and savory, cabbage-carrot slaw and basil
Five
Paired with 2007 Red Fusion Lodi
Blue Cheese Panna Cotta, blueberry compote, lemon yogurt, almond cookie
---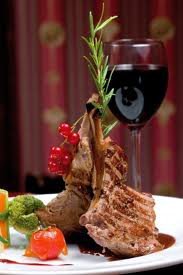 The idea is to push the boundaries from wine-food pairings you're accustomed to.
For example, most would grab a Chardonnay to go with salad, but Chef Buddy felt inspired to challenge the traditional with a meaty red. He played on the actual flavors within our Old Vine Barbera and came up with a winner.
Being a guinea pig for this particular pairing, I appreciated the way the intense and rich balsamic syrup mirrored the Barbera in a very savory way.
One side note: that little dollop of balsamic syrup was made from fruit grown in Lodi, then transported to Italy for finishing before its return to our table. Pretty exciting stuff!
The price is $65 per person plus tax, and please note that gratuity is not included. To join us, make reservations now by calling 209-401-1905.