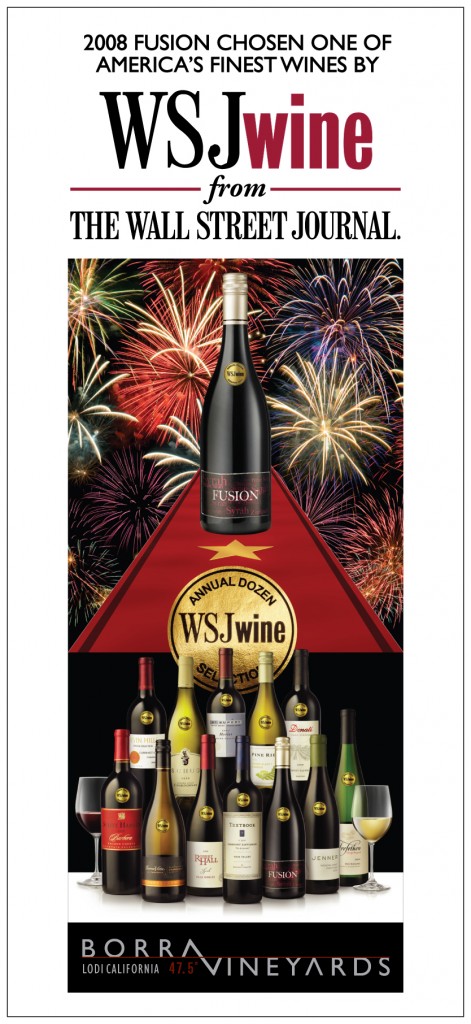 Today 1.7 million people are seeing our 2008 Fusion in The Wall Street Journal®!
Needless to say, we're excited beyond belief. Our Fusion was chosen as "One of America's Finest Wines" – a winner of The 3rd WSJwine® Annual Dozen 2011 competition, which appears as a half-page announcement in today's paper.
Over 800 wines were tasted blind last year by a panel of top judges, led by the world's No. 1 wine writer, Hugh Johnson. Of those highly-regarded wines only the best 24 made the final cut, grouped as The WSJwine Annual Dozen 2011 and The Luxury Dozen, along with other respected names, such as Pine Ridge, St. Supéry and Trefethen of Napa, and Scott Harvey of Amador. WSJwine is a partnership between The Wall Street Journal and the world's leading direct-to-home wine merchant.
Our 2008 Fusion is a Rhône-style blend of Petite Sirah, Syrah, Mourvèdre and Alicante Bouschet grapes mostly grown at our Gill Creek Ranch, north of Lockeford, and near the winery. "I've been farming those grapes for a long time, so it's wonderful to finally get recognition on such a high level," said Steve Borra.
Our winemaker, Markus Niggli agreed, "This is an amazing honor for us and Lodi! Don't tell anyone, but we think our cooler vintage 2009 Fusion is even better, which is good because we have less than 20 cases of the 2008 left."

DOUBLE-GOLD AT SF WINE COMPETITION!
And to put icing on the cake, we just found out today that our newly-released 2009 Fusion won a Double-Gold medal in the prestigious 2012 San Francisco Chronicle Wine Competition in the "Rhône Other Varietals & Blends-up to $19.99"category.
This competition is considered the "Largest Competition of American Wines in the World," with a record-setting 5,500 different wines submitted. To get a Double-Gold is a major accomplishment, because all five judges in the tasting panel need to be unanimous in awarding a wine a gold.
To celebrate our critically-acclaimed Fusion family, we'll be literally rolling out the Fusion red carpet on Saturday, January 14 from 12 p.m. to 5 p.m. at our tasting room. We're waiving our usual $5.00 tasting fee in honor of the occasion, and a special commemorative glass will be included with any wine purchase, so please make plans to join us!