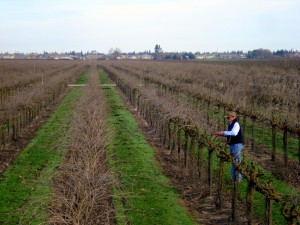 This being pruning time in wine country, I asked the master himself, Steve Borra, if he wouldn't mind showing me a thing or two.
Not long after sun-up on a Monday a couple of weeks ago, I snapped a bunch of pictures while Steve described the art of pruning.
There had been a few days delay in our photo shoot while the perfect pair of long red, pruning loppers could be imported back from the shed over at Gill Creek Ranch near Lockeford. While it's possible to snip off last year's woody shoots with scissor-sized shears, in professional hands the large loppers slice through old-vine, inch-thick wood like butter.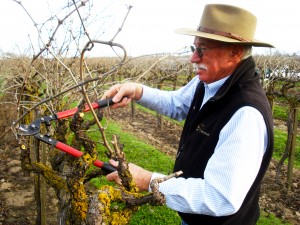 To begin work, Steve picked a row of the same Carrú Vineyard Barbera he planted in 1972, right up against the north side of the gravel parking lot near the winery on Armstrong Road – the Borra's Home Ranch.
Steve decided to plant Barbera because Ernest and Julio Gallo said it would be the next big thing. Unfortunately, in this somewhat fickle business, three short years later the next big thing was White Zin. Rather than sell all the grapes, in 1975 the family made nearly 400 cases of the boutique winery's first bottling of Barbera.
To get close into one of the two outstretched cordon arms of an old vine, Steve lops off a few upward dangling shoots that would otherwise knock off his glasses or the hat that has become his omnipresent trademark.
"This would be easier if we hedged all these rows."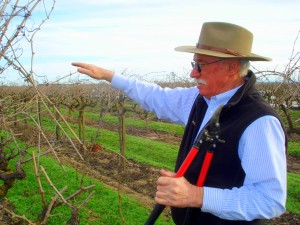 He's indicating that a mechanical pruning could chop off all the long shoots allowing him to get right against each spur position and make only the most educated cuts, rather than having to machete through the jungle of long shoots.
"See that bud?"
I lean forward and snap another one of about 83 photos while listening attentively.
"That one's pretty thin." It's on a shoot that's about the width of my pinky finger. "This other one is stronger, so that weak one is coming off." He works the shears to make a strategic cut, removing the wimpy shoot.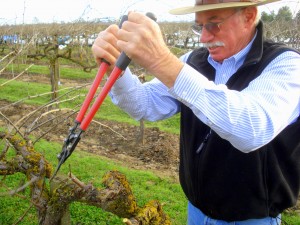 Steve then makes another cut, leaving the classic two-bud spur that will give rise to two strong shoots, each with one or two clusters of lusciously-complex Barbera grapes.
We then move less than a foot down the arm to look at nearly the same set of shoots and buds – but there are differences. Each spur is hand-trimmed with a vision of not only what the grapes will look like, but also an idea of which way the shoots will grow and even what they might look like during next year's pruning.
After we get going I realize no one's talking.
I break the silence, "What are you thinking?"
"I got into the zone," Steve answers. "It's really relaxing working the puzzle of one spur after another. You can tune everything else out."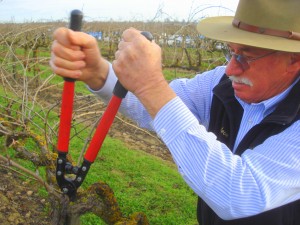 In the early days of selling his Barbera, Steve says, "Most grapes were packed in lugs labeled Zinfandel, which they said they'd re-label, but who really knows?"
No one cared much that his grapes were Barbera until the 1980's, as they came a bit back into fashion when Napa's legendary Louis Martini grew to be a big fan of Steve's vines. Martini would send his son to collect the harvested grapes.
After climbing atop a truck to get a few panoramic shots, and scrambling in the mud for a dramatic close-up, I let Steve know I've got what I need.
"I could keep going, but I'll leave it to the crew," he says. "I should have them pick this part of the row separately and see if my yield is better."
I have to admire Steve's workmanship after all these years. No wonder Borra wines are so darn good.