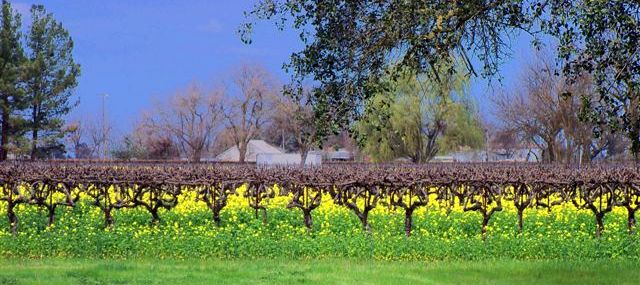 We're getting rained on right now, which is a good thing.
It seems like the last time we had this much rain was back in October when we didn't really want it, before we'd picked all our grapes.
So far, over in Lockeford, where most of our winegrapes are grown at our Gill Creek Ranch, we've accumulated about 6 inches of rain since the beginning of October. Compare that to close to 16 inches we had at this point in the season last year, and you can see we've had a pretty dry year – the third driest winter on record!
On Monday, before the storm blew in, Markus Niggli (our winemaker) had a chance to snap some photos of our neatly-pruned Gill Creek Ranch Chardonnay and old vine Zin. He also chatted with local wine writer for LodiWine.com, Randy Caparoso. (You can read the story either here or at their site.)
The abundant rains last year filled upstream reservoirs, such that some pretty major releases of water were apparently required to manage capacity. These releases flooded Lodi vineyards along the Mokelumne River that supply us with German varietals we use in some blends.
The river got so high that it sent water up through the pesky gofer home network under our low-lying Gill Creek Ranch Viognier vineyard block. With no breach in the protecting berm surrounding the vineyard, we wondered where the water was coming from at first – before we noticed the gushing gofer holes.
We should be able to get by on last year's bank of water, but not without irrigation. Even old vines with deep roots can't survive if their entire root system dries out and remains dry for too long.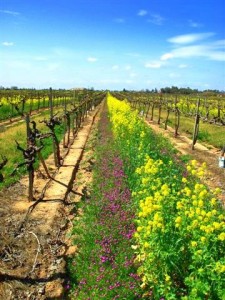 In fact, Markus was quoted, "We've already turned on the irrigation twice this year, to let water soak into the ground — the first time in the seven years I've been here that we've had to do that in the winter."
Our real concern is frost.
"The last thing we need this year is to lose crop to frosts, just as the vines are in bud break," Markus told Randy.
In particular, that same Viognier vineyard loves to collect frosty morning air that travels along the river. A few years ago we installed an overhead sprinkler system and frost alarms to protect the crop that has suffered a number of vintages.
Last year, Steve and Markus were awakened a few times in the wee hours to activate the sprinklers when the temperature crept down into the low 30's, threatening to kill the tender, new, inches-long green shoots.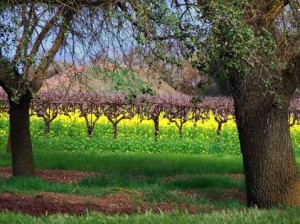 The dry, clear weather has made for lower lows and higher high temperatures over the last several months. Plus, dry soils lead to less humidity in the air, which allows temperatures to drop further. This threat of freezing temps usually extends through most of April around Lodi.
To push off budbreak – and therefore to keep new shoots out of as much of April as possible – Markus and crew rescheduled pruning for two to three weeks later than usual, "especially for grapes like Viognier and Barbera, which might have already been in bud break if we hadn't delayed pruning."
The current forecast of more than a week of clouds and rain, mostly below the low 60's should thankfully help keep budbreak delayed, hopefully past the end of March.
But ask any seasoned Lodi grower and they'll tell you that somehow everything works out come harvest.