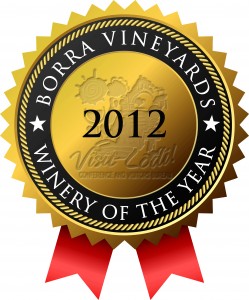 2012 couldn't be going much better for us!
First, we celebrated our 2008 Red Fusion being chosen as a Wall Street Journal winner. Next, we made it through April without a bite of frost. Now, we've been chosen as 2012 Winery of the Year by Visit Lodi! Conference and Visitors Bureau.
On May 1st we were all honored at the 6th Annual Tourism Luncheon at the Wine & Roses Hotel Restaurant Spa, with the superb gourmet creations of Chef Didier Gerbi.
Keith Colgan of LODI360.com was on hand to captured the event nicely in these photos. Just about everybody we know filled the room, including Lodi City Councilman, Bob Johnson, and City Manager, Rad Bartlam. Nancy Beckman, President and CEO of Visit Lodi! served as master of ceremonies.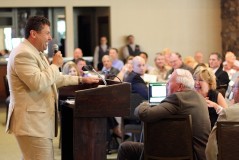 Also honored for contributions to the Lodi tourism effort was Frank Gayaldo, addressing the crowd (above), from Embassy Wine Distributors.
One of the most wonderful tributes was the following video, produced for Visit Lodi! by Baja Media Productions:
We took the opportunity to lift the following quotes from the video by our friends: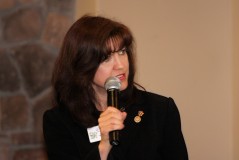 "The Winery of the Year award is given to a winery that has made a significant contribution to the tourism industry over the last year. People like Bev and Steve really make my job so much easier. They have such a great vision and everything they've done really makes Lodi a destination worth coming to." – Nancy Beckman, President & CEO, Visit Lodi!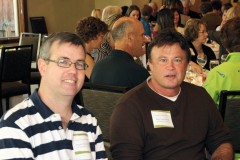 "Steve's wines show a quality and commitment to character that really show up well. We're very proud of their accomplishments." – Bob Lauchland, Chairman, Lodi Winegrape Commission (seated on right with Stuart Spencer, Program Manager)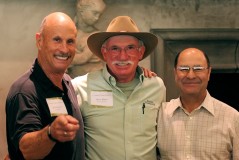 "I am just elated to have the relationship I have with Steve and know that he's gotten this recognition." – Leonard Cicerello, Owner, Lodi Wines (standing on right with David Lucas and Steve)
"The number of people that come back because of meeting Markus or having their wine at one of our pourings is enormous." – Clint Reed, Geweke Hospitality
We, at Borra Vineyards, throw out a huge THANK YOU to all of you who have visited us over the years. Please come back soon and bring all your friends! Cheers!