STEVE THE MAVERICK
Back in the '70s, Lodi was known only for big co-op wineries, producing sweetish jug wine.
Then along came Steve Borra.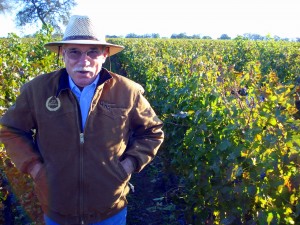 Steve wasn't interested in following the pack, and went about founding Lodi's first boutique winery, even before the county made up rules to define what a boutique winery was. He was bottling his Estate Barbera years ahead of Robert Mondavi's establishment of Woodbridge Winery.
In the vineyard, Steve bought up a large tract of land along the Mokelumne River near Clements to prove that Lodi could make a fine Cabernet Sauvignon, despite many naysayers scoffing that it wasn't possible to do that in California outside of Napa.
He also took a gamble planting Rhône varietals, like Viognier, Syrah and Petite Sirah, which are only recently paying off with respected recognition in wines such as the 2008 and 2009 Fusion Reds. And whereas the majority of growers plant their vine rows in a north-south or east-west direction to fit as many vines as possible, Steve planted most of them at a 47.5 degree angle to protect delicate grapes from the damaging afternoon sun.
Building on that foundation was Borra's winemaker, Markus Niggli, itching to challenge the status quo.
INTUITION
The accent betrays Markus's Swiss upbringing. Last May, he returned home to connect with his family and friends, including Marc Landolt, head of Landolt Weine – a successful wine business in Zürich. Marc has the privilege of farming vineyard acreage belonging to the City of Zürich (which translates to Stadt Zürich in Swiss). From a select 6 acres of these prized vines in the Burghalde-Riesbach Appellation, Marc is allowed to create a special white blend of German varietals he has labeled Stadt Zürich Barrique, meaning the wine is aged in barrels.
And that was the first rule to be broken. That's when Borra's new wine, code-named "Swiss blend," was born.

"The idea comes from there," explains Markus. "From the minute I opened Marc's Stadt Zürich I was attached to it. The appeal jumped at me and wouldn't let me go. I wanted to try it out in a different country with different growing conditions using the same techniques."
The rebel technique was putting traditional white German varietals in brand new oak barrels (Barrique). Over a few glasses of wine, Marc detailed to Markus how new oak and stirring the young wine on its lees every two weeks (known as battonage) can round out the edges and reduce the bitterness you can get in varietals such as Gewürztraminer. However, tradition dictates that German varietals should be free of the taste of oak, and made only in concrete or stainless steel tanks, or large oak casks which have no extractable oak.
But Markus's intuition told him it would work in Lodi, "If the moment is right I will do it," hence, the name "Intuition."
SQUARE PEG, ROUND HOLE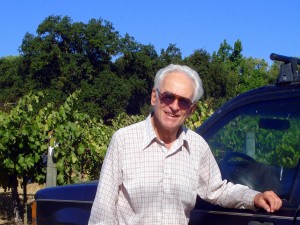 Meanwhile, back in the late 1990's, Lodi's Koth family, headed by Bob and son Brett, decided to do the unthinkable, by planting German varietals – reputed to be best grown in the world's coldest winegrape growing regions. The Koths planted their Mokelumne Glen Vineyards alongside the Mokelumne River just east of the City of Lodi, imagined by many critics as being much too hot, thereby breaking another hard-and-fast rule.
However, as noted wine writer Randy Caparoso pointed out in a recent blog on Intuition, "Lodi is not as 'hot' as many people think. But great for German grapes? Perhaps not for pure Riesling, which demands an ultra-cold climate to be at its best (even Napa Valley and most of Sonoma is too warm to grow great Riesling, which is why they don't). But grapes like Kerner (a crossing of Trollinger and Riesling) and Rieslaner (a Silvaner x Riesling crossing) were actually developed to excel in warmer, larger production regions of Germany, like Franconia and the Pfalz. Gewürztraminer grows best in Germany's Baden region, along the Rhine River, which can get quite warm."
In fact, Lodi is the only source for Kerner in California, with the Koths producing most of the 3.2 Tons crushed in 2011. (Borra bought 1.8 Tons, earning the distinction of being the biggest Kerner crusher in the state.) And Rieslaner is so rare that the U.S. Federal Government doesn't even permit it to be printed on wine labels.
And don't get us started regarding yields.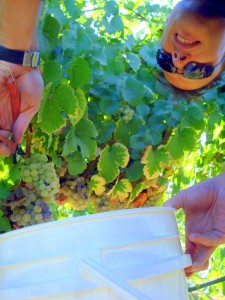 Lodi growers routinely get around 7 to 10 Tons of winegrapes per acre, though in mammoth years like 2005, it wasn't unusual to get 15 or even 20 Tons to some acres. So when Markus insisted on going against the grain to savagely reduce yield to a Ton per acre, it didn't exactly make him popular with his (still good) friend Brett Koth.
"The main point to this wine is to have very concentrated fruit, due to a low yield. There was shatter and we dropped about 50% of the fruit. We had a big discussion of when to drop or when not to drop whole clusters," recalls Markus.
Using the Landolt Stadt Zürich wine as a blueprint, Markus planned his grape variety purchases with the Koths before the 2011 vintage, ordering up Kerner and Gewürztraminer varieties. 2011 provided in most ways an excellent growing season, but yields were even lower than expected, partly due to huge volumes of water released from the upstream damn, which allowed two-foot-long catfish to swim in and out between the vines on the first of July. As a result, Markus had only about 80% of the grapes he needed:
"2011 was cold – a perfect year, but I needed to make up the 20%. It's mostly Rieslaner, but also a mix of vines from Riesling and Weißburgunder (Pinot blanc). The Koths have a lot of different varietals all planted together there."
THE WINEMAKING, ACCORDING TO MARKUS…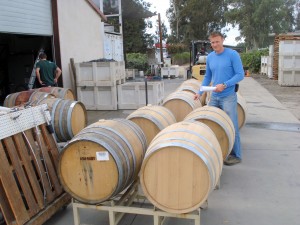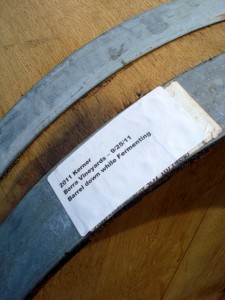 "The grapes we wound up with made the final blend about 60% Kerner, 20% Gewürztraminer and 20% Rieslaner, all from the Koth's Mokelumne Glen Vineyards. The oak is 50% French and 50% American Seguin Moreau, all new. Batonnage every two weeks, sur lie. Otherwise, the winemaking is very basic: nine months oak, heat and cold stable, sterile filtered and bottled June 3rd with no R.S. (residual sugar) and not one single gram of acid added. This is what this region can make. Pure vineyard. The wine has an intense freshness to it."
DRINK DIFFERENT
Markus continues, "You have Kerner with unique minerality – a very interesting grape for mouth feel and structure. Gewürz and Rieslaner bring a floral aspect, and oak integrates all these layers. People should understand how sick it is to put German varietals on oak. We're used to dry whites and dessert wines made in all stainless steel. You never make wine from your own personal liking, but I made this wine from my own personal liking. I think it's killer."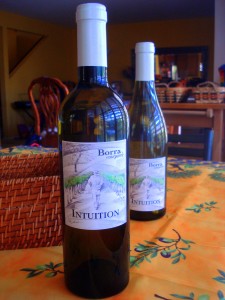 Randy Caparoso agreed, "The 2011 Borra Intuition Lodi Field Blend White is a beautifully perfumed white wine, with white tropical flower (suggesting Hawaiian plumeria, or frangipani) and rose petal/peppercorn spices, with undertones of fresh cream and Chinese lychee fruit. The wine is even better when you taste it – bone dry, feathery light in its medium body (just 12.8% alcohol), and a pointedly tart, clean, lemony edge that makes the palate cry for more (more wine, or for some great summery foods!). Meanwhile, the spiced fruit flavors signaled in the nose channel through the mouth like soft, silky waves upon tropical shores. Very sleek, contemporary, and as refreshing as a dry white wine can be."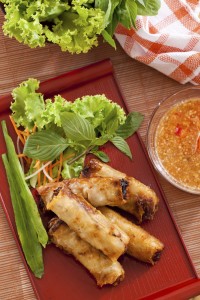 During a private tasting, we asked Randy what Intuition could pair with, and he replied, "The barrel ferment added to the textural quality a little viscosity, a little glycerol. You can serve it with oils or butter, ginger, chili spices, or anise. Usually you want to serve it with seafood, though even a vinaigrette salad would be nice. A ham and cheese Panini would work well because the cheese, when melted, gives creaminess. Try spring rolls with bean noodles, cilantro and shrimp or pork served with peanut sauce. It would taste good with sausage too, perhaps linguica from Lockeford Meat Company."
Intuition will be released on Saturday, July 28, 2012 at a special event open to the general public at Borra Vineyards from 1pm to 4pm. The price will be $22 per bottle ($17.59 for La Dolce Vita Club Members). There were only 146 cases of this rule-breaking wine produced, and it will be available only at the winery and a handful of the best restaurants.
We hope you can join us!