As if creating a new dry blend of little-known white wines wasn't enough of a challenge, our winemaker, Markus Niggli, had to come up with a name for our new "Swiss blend."
Many of us in the wine world will tell you there is one thing harder than making wine – and that is selling it. Most of you who drink our wines feel pretty comfortable when you see "Chardonnay" or "Zinfandel" on the label, but what do you call a blend of 60% Kerner, 20% Gewürztraminer and 20% Rieslaner, all from Mokelumne Glen Vineyards?
I asked Markus what process he went through to wrench his brain to cough up something catchy, and he simply said, "These names come out of nowhere. They just pop in your mind when you're working in the vineyard. Many times it takes intuition to grow perfect grapes when the vineyard floods, or to know when to leave a wine alone to make itself."
THE ARTIST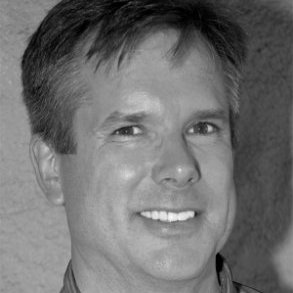 With two of the most important items accomplished – a solid wine and a unique name – the only obstacle left was coming up with a label worthy of all this work. We could have modified the Fusion label, but Markus directed, "With this new blend, I wanted a new label."
Markus turned to accomplished artist and illustrator Michael E. Leonard, currently an Adjunct Professor at University of the Pacific in Stockton and at San Joaquin Delta College. Michael's award-winning work had been published in more than 30 books and 200 articles. (And it didn't hurt that he holds a master's degree in medical and biological illustration from Johns Hopkins University School of Medicine.)
The plan was to get Michael's students to compete or collaborate with each other on ideas for the label, but Federal label approval regulations, tight print deadlines, and the need to preserve exciting, but delicate fruit aromas in an early bottling conspired against the idea. So Michael took to drawing up designs himself.
INSPIRATION
At some point, Markus and Michael came across a photo I took back in late October 2009, during Cabernet Sauvignon harvest at Borra's Gill Creek Ranch, north of the town of Lockeford. Catching a free ride in an empty Macrobin on the back of a tractor, I swung around with my camera in time to capture Steve Borra coming down the vine row for an inspection: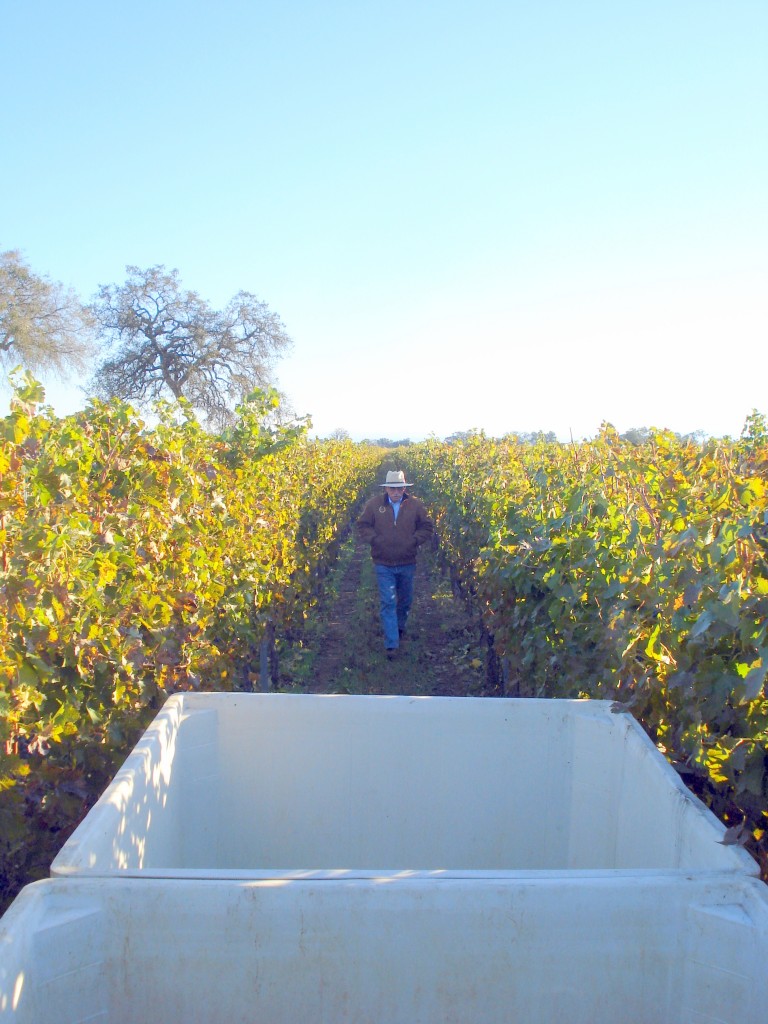 Pulling from Michael's skills, Markus felt, "I wanted a label with sketching, like the famous video song 'Take on Me' from A-ha."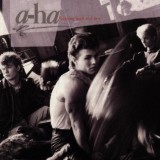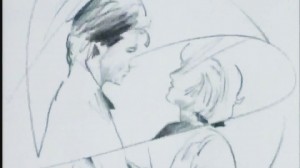 "It was the breakthrough of sketches-meet-video back in the early eighties when I was a typical teen. It stuck. Back in Europe, A-ha was very popular and their video got quite some noise:"
After a draft or two, Michael hit on Markus's desired "walking-in-the-vineyard effect to capture Steve." And here is how "a very classic Steve shot" was deftly transformed into our new Intuition label: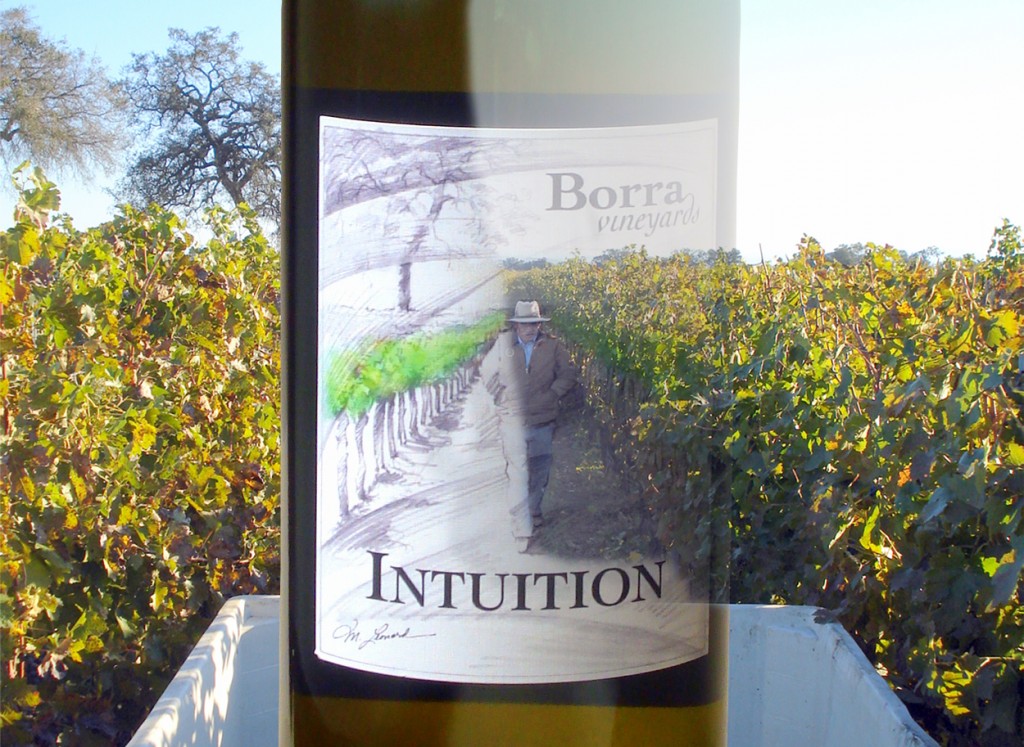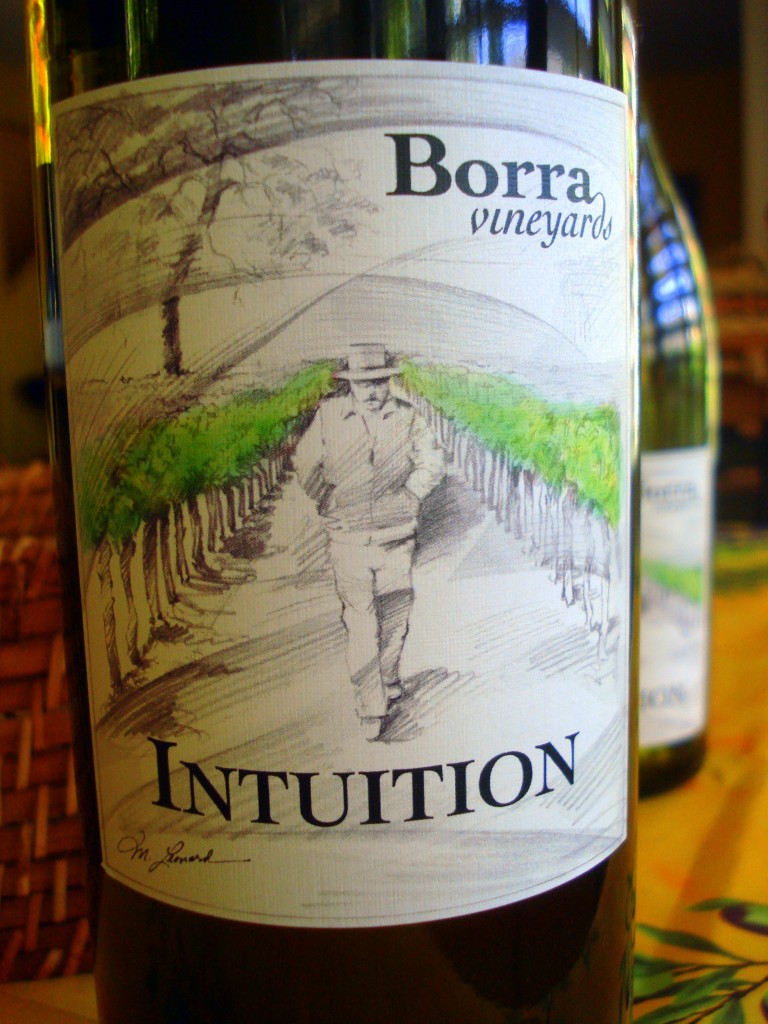 A PLEASANT SURPRISE
After a nine-month process, the label design was essentially complete. However, there was one last step out of respect for Steve.
Markus completes the story, "I first got permission from Bev [Steve's wife]. She said, 'I'm sure he will like it.' When he first saw the label, Steve said, 'Whoa, I really like it.' His first taste was a week after it was bottled. This was my surprise to him. I know that Steve is humble and doesn't want to be in the center point, but it is recognition of his work out there in the vineyards."
Read more about Intuition in our blog "Rules. Who need 'em?" or just get a bottle or two right now.