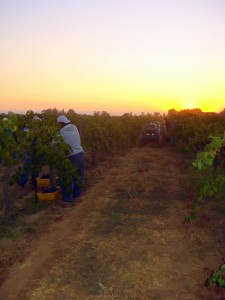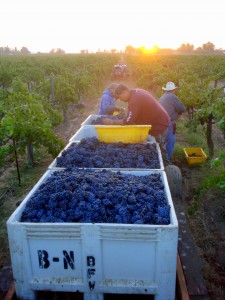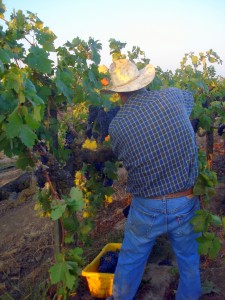 ZIN AT THE CRACK OF DAWN
I pulled through the north gatepost at Borra's Gill Creek Ranch Wednesday morning just before dawn, knowing the picking crew was already building up a sweat.
Though not quite as challenging as finding a needle in a haystack, when you're dealing with 40.7 acres of Old Vine Zinfandel, it can take time to find a bunch of hunched-over pickers. It's sort of like finding your mother down a supermarket isle when you've become stuck in the candy section a bit too long.
Sure enough, I caught up with about ten familiar faces dropping pristine bunches of dark purple grapes into yellow lugs faster than I could ever manage. If you've picked grapes, you quickly become reacquainted to seldom-used lower back muscles – what with all the bending over, squatting and twisting to dump those lugs into half-ton, chest-high white Macrobins.
A near-perfect cloudless morning in the fifties made for a pleasant photo shoot. And the ability to randomly reach out and snag a snack of a delicious berry of Zin was a convenient bonus. The berries tasted rich, but not sugary, with hints of something more exciting going on that was definitely not raisin. These are the sorts of flavors you know are going to taste special in the bottle.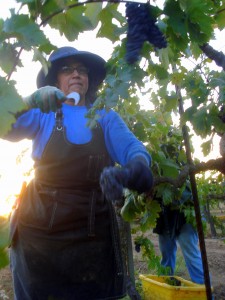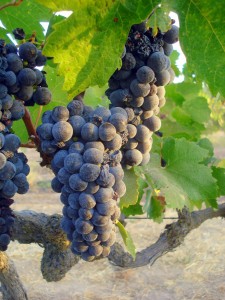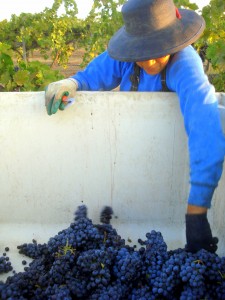 VINTAGE VARIATION
Being the 26th day of September, timing of the pick was within a week of the last two, cooler years. 2010 Zin was picked on the 28th and the 2011 was picked on the 21st. Sugars are a bit higher at 26.3˚ Brix, compared to 24.9˚ B in 2010 and 26.2˚ B in 2011, but that's to be expected in a consistently warm growing season, where temps seemed stuck in the upper 90's all summer – several times crossing the 100˚ mark.
The main difference in vintages is that the acids are lower this year: pH's for this year and 2010 and 2011 were 3.82, 3.54, 3.56, respectively, with TA's at 4.7, 5.8 and 6.3.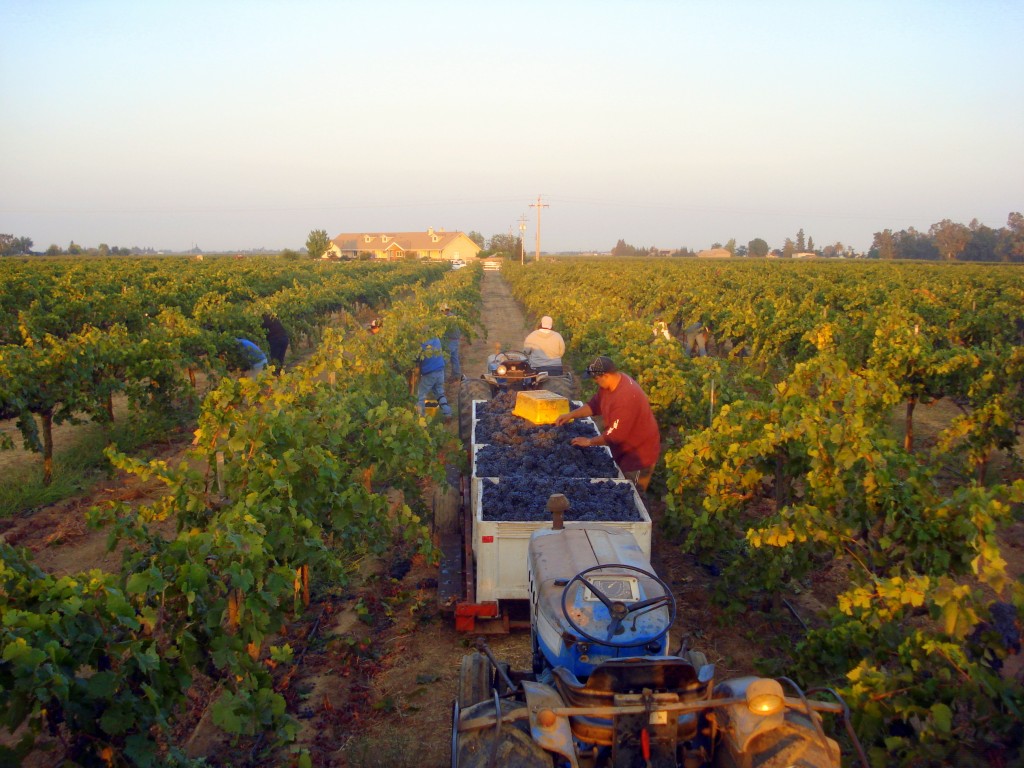 THINGS ARE LOOKING UP
I chatted with Borra's winemaker, Markus Niggli, today, two days after crushing, and he said he's happy with this year's Zinfandel: "We were worried about the amount of crop we were going to get, but it turned out pretty well. We got 3 tons per acre. Last year we only got a ton and a half per acre."
Describing the season and the results, he said, "Fruit set was good. And this year we had pretty heavy foliage, giving us a better ratio of leaves to grapes. The heat gave us much more fruit, and it's all pristine and clean with no bugs and absolutely no sign of rot. We see smaller berries and bigger clusters, and the grapes have a good typical Zin flavor profile."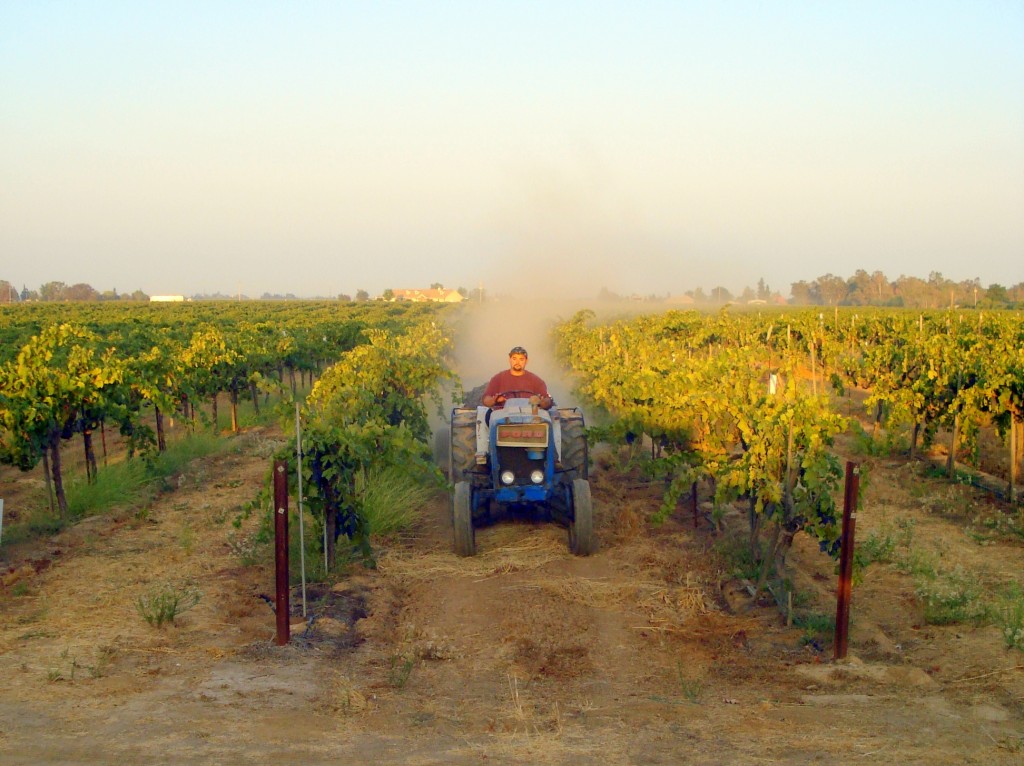 CHALLENGES PRODUCE COMPLEXITY
One of the challenges in farming Borra's Gill Creek Ranch Zin is a swale and subtle rise running through the vineyard that creates complexity simply from a range of ripeness along each vine row.
Another challenge is that these 46-year-old vines regularly produce maybe only a quarter of the output of their younger counterparts – but what you do get tends to be more interesting than the huge fruity horsepower young vines provide.
Of the entire yield only 11.1 tons were crushed and destemmed into tank #5 specifically for Borra. The rest will be shipped off to other wineries eager to make their own award-winning Lodi Zin.