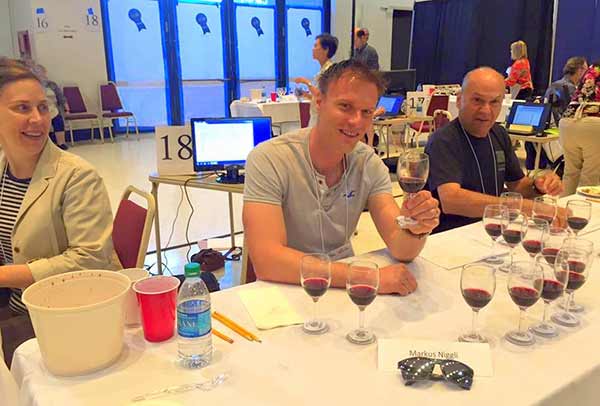 Our winemaker Markus was one of the many judges at this year's California State Fair Commercial Wine Competition, where all wines are tasted blind. After a while, even the best smile turns purple.

FRESH MEDALS
Nothing like the smell of gold medals in the morning and wonderful wines at night!
Since we just raked-in a bunch of medals for our best red and white blends, we figured we'd give you the opportunity to try them by charging only a penny for shipping. (It's like we moved the tasting room to your front door.)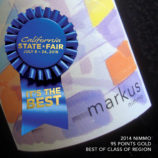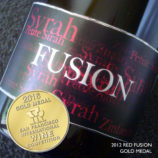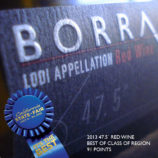 You'll get two bottles of each of these wines to make a 6-pack for a total of
$150.00
plus one cent for shipping and tax where applicable. (If you do the math, it's just a little less than if you bought the bottles individually.)
2014 Markus Nimmo
Lodi Appellation
71% Kerner, 13% Gewürztraminer, 11% Riesling, 5% Bacchus
WINNER BEST OF CLASS OF REGION CALIFORNIA STATE FAIR 95 POINTS GOLD
There's a living vibrancy here that results from pure, fresh fruit energized by dynamically-balanced acidity that will keep this young white aging gracefully for years. It's sort of a new animal that resists being pinpointed, but you may think tart – not gripping – lemon and orange peel wrapped in something like tea leaves.
Regular Price: 22.00
2012 FUSION Red
Lodi Appellation, Proprietary Red Blend
60% Syrah, 20% Petite Sirah, 17% Zinfandel, 3% Alicante Bouschet
GOLD MEDAL WINNER SAN FRANCISCO INTERNATIONAL WINE COMPETITION
Our favorite crowd-pleaser is a deliciously dry, complex fusion of Lodi's best winegrape varietals. If this wine were a food, you'd swear it was a gorgeous slab of Chinese pork spare ribs, glazed and cooked to form a slightly charred, eminently delectable crust.
Regular Price: $19.99
2013 Red Wine 47.5°
Lodi Appellation, Proprietary Red Blend
42% Petite Sirah, 37% Syrah, 21% Mourvèdre
WINNER BEST OF CLASS OF REGION CALIFORNIA STATE FAIR 91 POINTS SILVER
Our best Petite Sirah, Syrah and Mourvèdre blend is the very definition of Lodi-grown balance and elegance. A particular flavor or two dominate most wines, but with this vintage, everything's dancing together practically seamlessly, resisting nailed-down descriptions.
Regular Price: 35.00

ORDERING INFORMATION
We're making this offer only from Friday, June 24 through Monday, June 27, so you'll want to head to your shopping cart by hitting this button now:

P.S. There have been record hot temperatures lately, especially for all our friends in the southwest. If we think the wine will be boiled, we'll hold your shipment until things cool off just a bit.