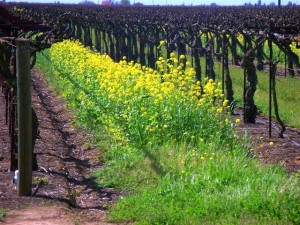 Mustard, mustard everywhere!
Well, maybe "everywhere" is a bit of an exaggeration. We plant a mixture of grasses and other plants in the dirt between every other row of vines to fertilize our prize-winning winegrapes the natural way.
This potpourri of grasses and plants covering the ground is called, simply, a "cover crop." And this year, after analyzing the soil and vines after harvest, we decided that mustard would be the most beneficial to our Gill Creek Ranch vineyard blocks.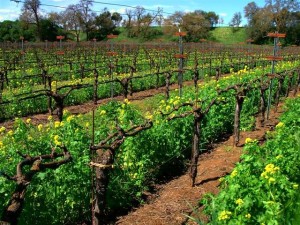 Some cover crops capture significant amounts of nitrogen from the air and convert that gas into proteins and cell walls that later work back into the soil when the cover crop is mowed and/or disced.
We all know that mustard can be spicy hot, but a cover crop of mustard can actually work as a biofumigant, helping to knock out or control bad soil pests like certain nematodes.
Another mustard benefit is that "Napa look" which sure doesn't hurt the eyes, further beautifying our Chardonnay and Viognier, as shown in these two shots, to the right.
Besides cover crops, we've been adding a young tree or two around the vineyard to attract more native bird life, all in accordance with our Lodi Rules certification for sustainable winegrowing: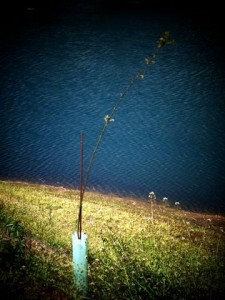 As we reach the final week of March, excitement is building for bud break on vintage 2011. But as the vines sneak in a few more days of winter's dormant rest, we'll share a photo of the old Gill Creek that used to meander through the field where our Old Vine Zinfandel is now planted. Gill Creek only reappears when we've had sufficient rainfall, as we have had this past season: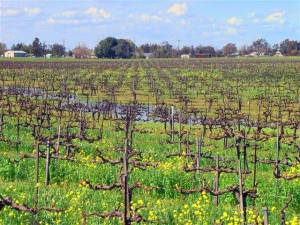 And one more bonus photo, where Markus got to express his hidden inner artsy photo skills: