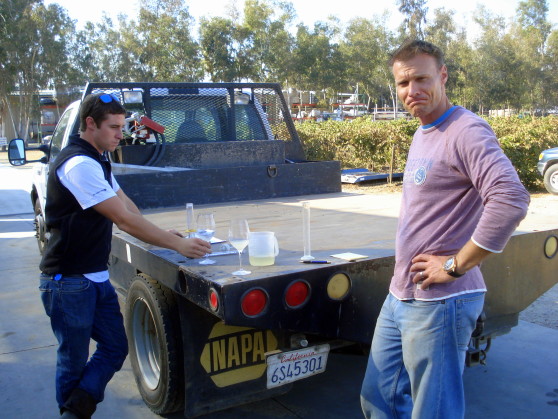 You can't believe how much I enjoy pulling up behind a winery crush pad and being greeted with, "Here, try this."
Markus Niggli, Borra Vineyards' winemaker, offered up a glass with a nearly clear liquid inside, presumably wine.
"What is it?" I said, before even smelling, as we went through a routine we'd played out many times before.
"I'm not telling you," he said, practically on cue.
Whatever it was had pure green apples and limes bouncing amidst the fun fizziness of tiny bubbles and minerality. It was warm that day, and I could easily have gulped it down to quench a parched thirst, but I thought it rude at the time.
There was a flatbed truck blocking the driveway serving as a makeshift table conveniently next to a small stainless steel tank holding the mystery wine. Kyle Luke, Markus's former protégé/assistant winemaker, had been pouring samples into a couple of graduated cylinders to create blends. He and Markus stopped everything and stared at my face to get my first most honest impression of their creation.
When I'm not sure what I'm tasting, I hedge my bets with a safe, but truthful response: "It's nice. Nice balance of acid with sweetness that comes off as being slightly off-dry. What is it?"
"Vinho Verde!" Markus blurts out, which doesn't help me much, because I'll admit I don't know every wine made by man, though mentally I was google-earth rotating the globe around to somewhere on the coast of Spain that seemed to be associated.
"But isn't Vinho Verde a super-acid, green style of winemaking in Portugal?"
"Yes, but we're doing it with Kerner and Riesling from Mokelumne Glen fruit. We're tweaking the blend, because I like what the Riesling is bringing to the Kerner."
"Is this going to be another Intuition or something?" I ask, thinking of the blend he started last year of Kerner, Gewürztraminer, and Rieslaner.
"No, this is completely different. It's got apple and pear with a slight carbonation. And this time we'll have a student from the university [Stockton's University of the Pacific] designing the label," he explains in his excited Swiss accent.
THE ARTIST SERIES LABEL IS BORN
Just a few weeks later, Markus met up with University of the Pacific Professor Michael E. Leonard to review his students' artwork. Markus and Professor Leonard had hoped last year to have a student design the label for Borra's Heritage and Intuition labels, but time ran out before bottling, so the professor stepped in and rendered his own design (which you can read about here).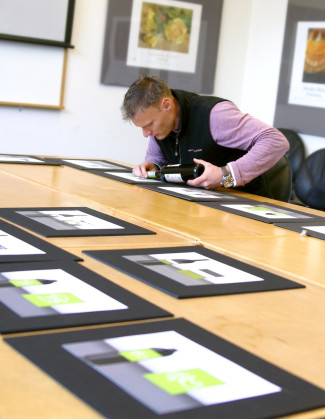 Professor Leonard was happy that Markus kept his promise to come back, "I was excited that this was not a one-time deal. It's a long-term collaboration between the school and Borra Vineyards," the professor said. "I try to marry the instructional material with practical experience through competitions, and this was a tremendous opportunity for the illustration class. Students have created movie posters and the University's Summer Sessions course catalog covers in the past, and I knew it would be a strong competition with lots of talent."
Markus gives the ground rules for the competition: "I've got a lot of connections in Switzerland [where he grew up], and I wanted to create a label that would work for the Euro market. I wanted the pure mindset of an art student. So the only guidelines I gave them were that it was a greenish wine, and I gave them some numbers and letters, and they didn't know what those numbers and letters meant. I didn't want to limit their creativity."
What he got was a whole conference room table full of artwork mounted on black mattes. After carefully making sure that the final designs would work with existing silver Borra Vineyards capsules, Markus was particularly impressed with the work of junior Sheng Moua.
Sheng's concept was chosen, and she admits, "I was a little confused, at first, by the combination of numbers and letters that we had to use for our design ideas. I knew I had to adapt my ideas to something the winemaker would like on his bottles."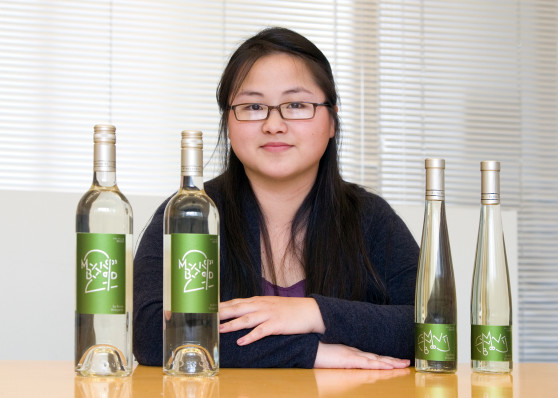 The youngest of seven children and majoring in graphic design, Sheng is the first in her Hmong family to attend college and has the goal of owning her own design firm. She found the project both exciting and challenging. After doing extensive research online of wine labels and contemporary design, she submitted a few different ideas.
A pleased Markus relates, "This whole process of collaboration worked out just great, and I call the wine 'Artist Series' because I'll be coming back each year to the university for new artwork from new student artists."
But the process of developing the new label was still nowhere near complete. Only industry insiders know of the love/hate relationship between graphic artists and printers, especially with wine labels, where designs deliberately push the envelope of what can technically be done with ink, printing plates and steel dies. There is much behind-the-scenes skill involved with prepping the artwork to look great when it's printed. And that's where MPI Label Systems in Stockton stepped in with their print prep artists.
The result allowed Sheng's original artwork to come completely alive. For you print geeks: the labels were printed digitally on dull silver foil so that the silver highlights in the design would match the screwcaps and capsules Borra used on the bottles. The central part of the design was embossed to enhance the core art of the design – the letters and numbers.
WHAT DOES IT ALL MEAN?
But what finally makes it into the bottle behind that label still needs to be equally inspired.
The proof is in the pudding, and it sure doesn't hurt when your boss becomes a new wine's first fan. Steve Borra quickly took a particular liking to the new creation, keeping a private stash in his home refrigerator and admitting to grabbing a cold one after a long day in the field.
I asked Steve how he liked it when I was getting my own stash for purposes of writing tasting notes (translates to "drinking").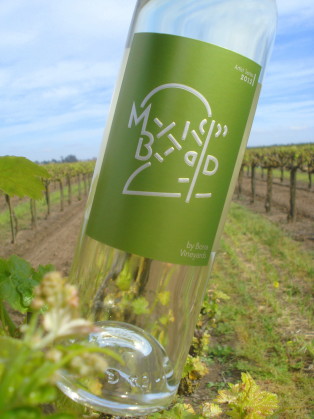 "Oh, you mean the Zipcode wine?" he said, which made almost no sense to me at first.
Steve suffers from a common ailment in Lodi: an almost reflexive giving up when we see a word we're not going to try to pronounce. (Sort of like how all Lodi winegrowers call the Carignane grape "Kerrigan," which makes no sense either.) But once you take a look at the front label, you'll either give up, too, or start trying to solve the puzzle.
Looking at the label, I, myself, can make out "M" and "B" and a "2", but everything else seems to have fallen to pieces.
Markus explained that he gave the students only "MKBW8872," not this handy decoder that you'll want to keep around when you twist open a bottle:
M = Markus (winemaker)
K = Konrad (Markus's brother)
B = Bernhard (Markus's other brother)
W = Weesen (where Markus grew up in Switzerland)
8872 = the postal code for Weesen
And that's what triggered Steve's nickname, because here in the U.S., of course, we use the term "Zipcode" instead of postal code.
EXPERT OPINION
But what does an expert think of it?
Markus gave noted wine writer Randy Caparoso a sneak taste of the Zipcode wine (and two more that we won't talk about yet, but will release later in the year).
Fortunately for Borra, Randy was so sparked by excitement from the new Artist Series and other new wines to proclaim:
"Borra now produces the most 'contemporary' style wines grown in Lodi today, period."
(Check out his dedicated blog post with the great title, "Borra's amazing Spring releases" on LodiWine.com. Here's a PDF.)
By "contemporary," Randy's referring to a not-overripe, but natural-acid style that is exactly what cutting-edge sommeliers and wine writers are looking for right now.
Randy continues:
"Mr. Niggli has crafted a mouth wateringly crisp dry white wine that is as light as a feather on a Southern breeze. The nose is effusively fragrant, like Pippin apple and orange peel, with soothing touches of rising bread dough. The acidity is lemony fresh without being sharp, and rounded out by just a whisper of sweetness. The acid still high enough that the wine finishes dry, with a definite minerally feel to go along with the citrusy fruit."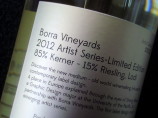 Of course, I had to double-check his notes, so I actually took a swig straight from the bottle, pirate-style, and boy was it easy to chug, but I don't recommend it. It's hard to taste all those flavors when its roaring straight down the gullet.
Rather than explaining in detail how it was made, here are the cliff notes that you can scroll past if they look boring:
THE STATS
2012 Artist Series Kerner "Zipcode"
Appellation: Lodi (Mokelumne Glen Vineyards)
Blend: 85% Kerner, 15% Riesling
Harvested: September 12, 2012
Winemaking: 3 weeks stainless steel cold-fermented, native yeast, no acid adds
Cellar: 4 months, 100% stainless steel
Bottled: January 15, 2013
Cases produced: 42
Alcohol on Label: 13.5%
RS: 2.10 g/L, slightly off-dry
pH: 2.98
TA: 7.73 g/L
Price: $18.00/$14.40 for club members
Size: 750 mL
All that translates into the kind of wine you'll want to always have in the fridge to get your party started with the perfect welcome, "Here, try this!"
AND NOW THE SALES TALK…
Only 42 cases of this quaffer was produced, and all but 15 cases will be shipped back to Switzerland for distribution there.
We've got an inside bet that at $18 per bottle, but only $14.40 for Borra's La Dolce Vita club members, each and every bottle will probably be spoken for by ZinFest, May 18th.
MAY 10, 2013 UPDATE:
Sure enough, we have sold out before ZinFest! Thanks for your support!
Download Tasting Notes