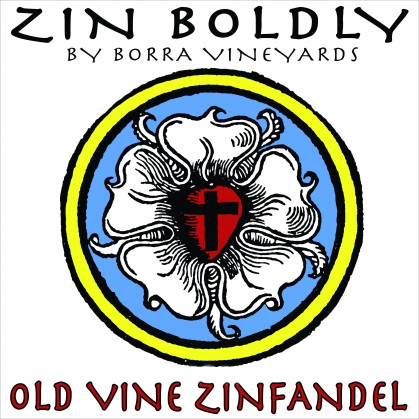 ANNOUNCEMENT
We are happy (and sad) to announce that we are now completely sold out of Zin Boldly. But we hope to have a new vintage released sometime in the future. Thank you for visiting our Web site!

BACKGROUND
Back in 1521, Martin Luther wrote in a letter to Phillip Melanchthon, "Be a sinner and sin boldly, but believe and rejoice in Christ even more boldly, for he is victorious over sin, death and the world." We celebrate the spirit of Luther's advice with this Zin from a special vineyard planted more than forty years ago overlooking the Mokelumne River, flowing through the heart of Lodi, famed for the cultivation of Zinfandel. Spread the Word with this fine wine.

TASTING NOTES
Combine old Lodi vines with a cool growing season and you've got the perfect storm for world-class Zinfandel. Everything about this wine suggests grilling at its finest: from an almost meaty chewiness to a Knob Creek bourbon roastedness, beginning with aromas of rich blackberries, figs, orange blossoms, bacon, and, perhaps, mint. And, taking a decidedly un-jammy turn in the glass, we find velvety and mouth-caressing pure, fresh and intense, tart juicy cherries right off the tree, bathed in pleasing acidity and fine, dusty tannins that soften within a couple of hours. There's underlying tobacco, bacon and violets, finishing off with the skin of ripe plums, spicy black licorice and a swirl of blackberry yogurt. Pair with some savory Chinese spareribs. (06/11/12) (Download Tasting Notes)

ORDERING INFORMATION
With only 100 cases produced, and at the special price of $20 plus tax and $5 shipping/handling* per bottle, we are offering Zin Boldly in either a 3-pack, 6-pack or 12-pack case. To order, simply click on one of the "Add to Cart" buttons below:
3-Pack
$75.00
SOLD OUT
6-Pack
$145.00
SOLD OUT
12-Pack
$278.00
SOLD OUT
*Invoice will show as one cent per pack for shipping.
OTHER WINES YOU MAY LIKE
FUSION Red 2010

Lodi Appellation, Proprietary Red Blend

Our favorite crowd-pleaser is a delicious, complex fusion of Lodi's best winegrape varietals. You can almost smell the vineyard amongst layers of brewing coffee, oak, and semi-sweet chocolate wrapped around a filling of fresh raspberries. Incredibly racy this year and very dark in terms of dark chocolate, blackberries, raspberries and lots of bold spice that morphs into an excellent cherry enveloped in chocolate refusing to leave your tongue. Best with grilled beef ribs, dry-rubbed with black pepper and garlic. 450 cases produced. (11/03/12)

Regular Price: $18.99 Download Tasting Notes

Heritage Field Blend Red 2010

Lodi Appellation, Proprietary Blend

"It is unequivocally, deliciously and deliriously fantastic – a red wine for the ages – luscious flavors barely contained by zesty yet viscous textured, medium-full bodied sensations, flowing like proverbial rivers of Babylon." – Randy Caparoso, Lodi Winegrape Commission

Generations of winegrape farmers used to grow a mix of interspersed grape varieties in a field of vines then crush them all together on the same day, creating a "field blend" of beautiful garnet red. The result, as with only the best wines we've tasted, is almost indescribable. Wild fragrances of rich black cherries or black currant, bathed in a tapestry of an incredibly-reduced demi-glace of beef broth, shift untamed with perhaps smoky bacon or cloves or scorched earth. Luscious tangy black cherries and the concentrated essence of blackberries with molasses and coffee strike a powerful and exciting balance that is always enticing, but couldn't be termed sweet. The flavors dance for minutes before resolving into cedar and textured deep rose petals. Very versatile with foods, especially great with rosemary roasted lamb, duck or virtually any beef topped with a reduction sauce. In many ways, our Heritage is itself a sauce in a glass. 250 cases produced. (11/04/12)

Read much more on our blog "The Start of Our New Heritage."

Regular Price: $25.00 Download Tasting Notes

Old Vine Barbera 2008

Home Ranch Carrú Vineyard, Estate Bottled

Perhaps the last pure Barbera to be bottled from Steve Borra's grandfather's original vineyard in Lodi. We named our Barbera "Fiera del Bue Grasso" or "Fair of the Fat Ox", after the main annual celebration of the wines, food, and cattle of his Piedmontese home town of Carru'. Loads of fascinating smoky tea and meaty leather blanket strawberry jam, raspberries and cherries. Our bordering Eucalyptus grove has had a definite influence in this alluring vintage, meeting up with soul-warming mint and buckets of pomegranates, sour plums and cherries, with some raspberry tea thrown in for good measure. An excellent side dish would be a "zesty, earthy risotto soaked in wine with shaved Parmigiano." 170 cases produced.

Regular Price: $25.99

47.5° Syrah 2009

Gill Creek Ranch, Estate Bottled

This 100% pure Syrah is the perfect expression of our Gill Creek Ranch vineyard, oriented at 47.5˚ from north for optimal, even ripening. Smoked sausage turns to brooding black raspberries whispfully mingle with deep dark chocolate suggesting a Viennese Sacher Torte, accompanied by coffee, black pepper and molasses, telegraphing the enormity of this wine. Smooth, chewy tannins embrace brawny black plum and rich violet flavors, transitioning to an encore finale of and cinnamon black peppered espresso lasting seemingly forever. One of Lodi's biggest Syrahs. 141 cases produced. Limit 6 bottles per person.

Regular Price: $35.00 Download Tasting Notes

47.5° Red Wine 2010

Lodi Appellation, Proprietary Red Blend

Our blackest Petite Sirah, with Syrah and Mourvèdre playing backup, is likely to be our most age-worthy vinous creation to date. The cool 2010 growing season has super-structured this elixir with generous texture and concentration that only now is beginning to provide a glimpse of what's to come. After decanting for hours – should you be so disciplined – you will be rewarded with a progression of black berries and black cherries leading to tart, intense black plums and black licorice. The complex future is best imagined through aromas of rich plums, dates, pencil lead, and what might be described as a hint of Teriyaki sauce or perhaps musky cologne, but you'll have to take a whiff yourself to even come close to figuring it out precisely. Even then, our own notes have changed appreciably over the last several weeks, while our sleeping black stallion slowly wakens. 120 cases produced. Limit 6 bottles per person. (6/10/12)

Regular Price: $35.00 Download Tasting Notes