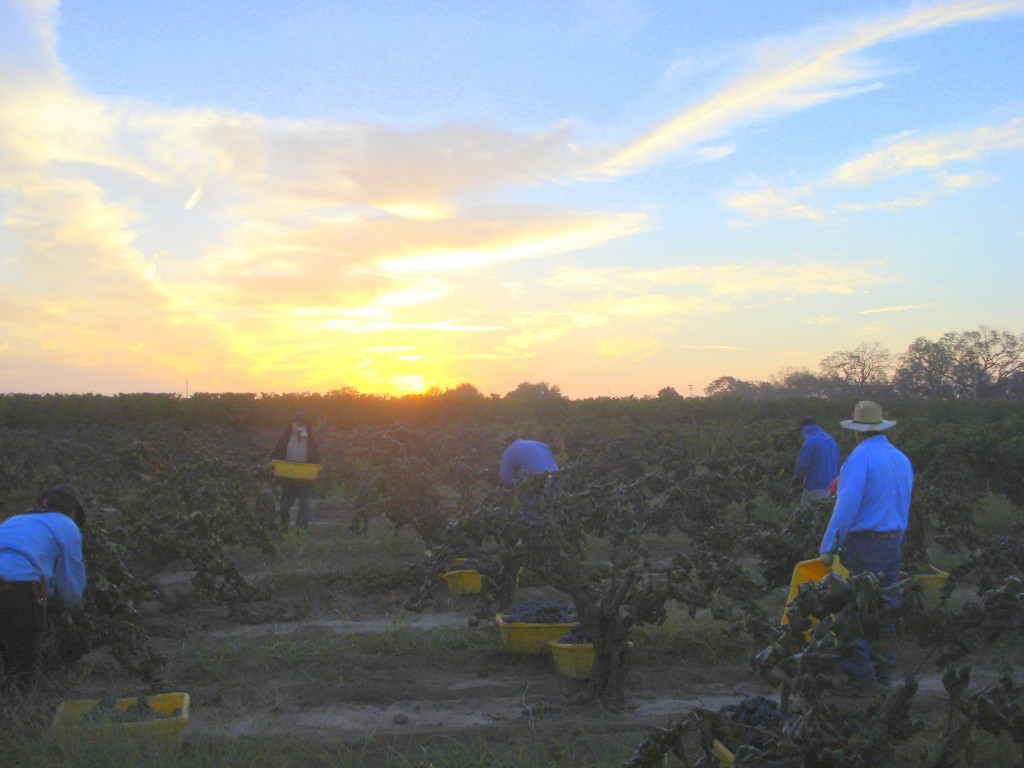 There was a time when local winemakers didn't really care what grapes they were growing as long as their wine tasted good. They'd have maybe Zinfandel, Carignane and Petite Sirah planted, perhaps all mixed up, on whatever land they weren't using for watermelon, almonds or corn.
When the birds started to feast on the vines, and a random grape tasting showed at least some sweetness, the whole field was picked and fermented together in the family's biggest wooden vat. That process of throwing everything in at the same time is known as a "field blend."
Nowadays, we're able to instantly read the sugar and acid of grapes as they ripen to pick a tiny section of a particular vineyard – perhaps because it ripens earlier than the rest – and make a very specific wine of that certain clone of grape. There's all kinds of control, but sometimes you lose the romance.
That's why Borra has been making an old fashioned Field Blend exclusively for their La Dolce Vita Club members over the past few years. And now Borra is bottling that romance under a new label called "Heritage" to capture the tradition of grape growing handed down from one generation to the next in Steve Borra's family.
PICKING DAY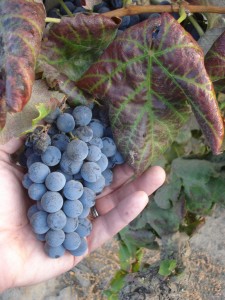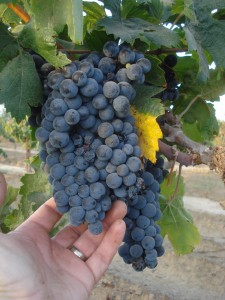 The 2012 Heritage began its trip toward wine on the first Thursday of October. I was fortunate to tag along with the picking crew, led by vineyard foreman Manuel Maldonado, as they arrived in the barely-visible vineyard before the crack of dawn.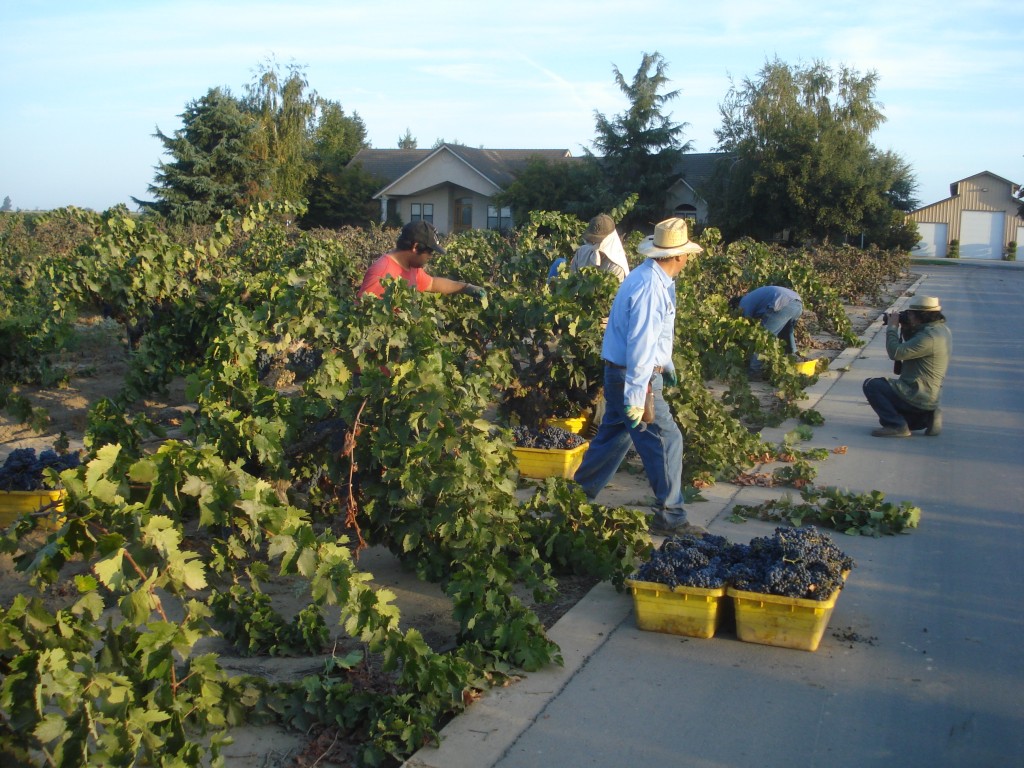 What we call "vineyard," Steve Borra's daughter, Gina, calls her front yard, because all those vines are sitting along her driveway in the space of a few hundred feet between her house and Armstrong Road. Steve's formal name for those vines is the "Church Block."
Only a three minute tractor drive down the road from the winery, Church Block was once part of a 60-acre vineyard owned by the Racca family – a brother and two sisters, none of whom married. They sold five acres to the Stockton Catholic Diocese (of which St. Anne's is a member) for a future church or school. Steve farmed the vines for about ten years before purchasing the property in 1990.
The block was planted back around 1920 – almost a century ago – to an acre each of Petite Sirah, Carignane, Alicante Bouschet and Zinfandel, but the Zin is now gone, because, "That's where Gina planted her house," per Steve.
SCARCE BARBERA

"Home Ranch" old vine Barbera makes up the lion's share of Heritage. The previous day, Manuel and crew picked the last of the Barbera, growing around the winery next to Steve and his wife Bev's home – hence the name "Home Ranch" for that vineyard.
Borra's winemaker, Markus Niggli, has to pick the Barbera ahead of the Church Block so he can get an idea of crop size before committing to make either a pure Barbera, Field Blend, or both.
Steve's Barbera has had a rollercoaster ride in popularity over the years. It went from an unknown red to being very popular with wineries like Napa's legendary Louis M. Martini in the 1980's. It hit a slump around the turn of the century, but has become a big hit since then with wineries throughout the U.S.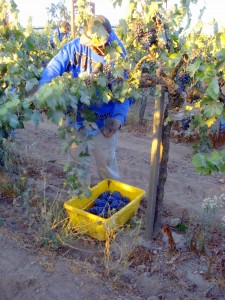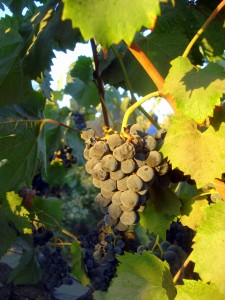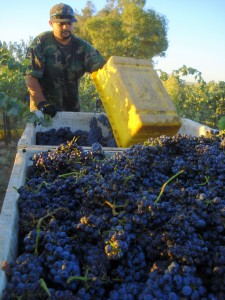 Markus provides more behind-the-scenes detail:
"We usually have more orders for the Barbera than we have grapes. In hard years we don't even have enough grapes to make all of our own wines, but 2010 was a very big year and the crops of the different Field Blend grapes for once all got completely ripe. There was a rare perfection of growing conditions. We still didn't have enough for both a 100% Barbera and a Field Blend, and I wanted to make a Field Blend, so I had to hide six bins of Barbera in the barrel room so Steve wouldn't know. Otherwise, he would have shipped them across the country. But the new Heritage was worth the risk."
CELLAR WORK
Fortunately for 2012, the amount of Barbera that came in was sufficient to make a Field Blend as well as a pure old vine Barbera, so Markus gave the order for a handful of bins of Church Block grapes to be added to one of the tanks where the previous day's Barbera was chilling down. (A couple days of refrigerated pre-soak releases more color and extracts more complexity.)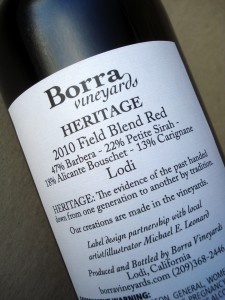 In terms of percentages (for those of us wine geeks), 2012 will come pretty close to those of 2010, which were 47% Barbera, 22% Petite Sirah, 18% Alicante Bouschet, and 13% Carignane. (And if you want to get super-technical and take into consideration the hundred yards separating the Church Block from the Home Ranch, you could say they weren't all from the same field, but it's all pretty much the same terroir in my book.)
The winemaking recipe is about as simple as it gets: no yeast or malolactic bacteria are added during fermentation; the grapes aren't even pressed afterward, but only drained off. There is no fiddling around. Just natural winemaking so you can taste the vines.
There is, however, always the question of oak. Too little, and a wine can taste just simple and fruity. Too much, and all you taste is oak paving over the vineyard.
Markus felt, "Due to the wine's heavy structure, we used 45% new French oak barrels for the 2010 – more than usual. We knew the wine would be powerful and rich."
BARELY-DESCRIBABLE FLAVORS OF 2010
Borra's official winemaker notes describe this almost indescribable wine as:
"Wild fragrances of rich black cherries or black currant, bathed in a tapestry of an incredibly-reduced demi-glace of beef broth, shift untamed with perhaps smoky bacon or cloves or scorched earth. Luscious tangy black cherries and the concentrated essence of blackberries with molasses and coffee strike a powerful and exciting balance that is always enticing, but couldn't be termed sweet. The flavors dance for minutes before resolving into cedar and textured deep rose petals. Very versatile with foods, especially great with rosemary roasted lamb, duck or virtually any beef topped with a reduction sauce. In many ways, our Heritage is itself a sauce in a glass. 250 cases produced."
Off the record, Markus says, "It's hard to keep it in the bottle. It screams to get out. The glass just pops."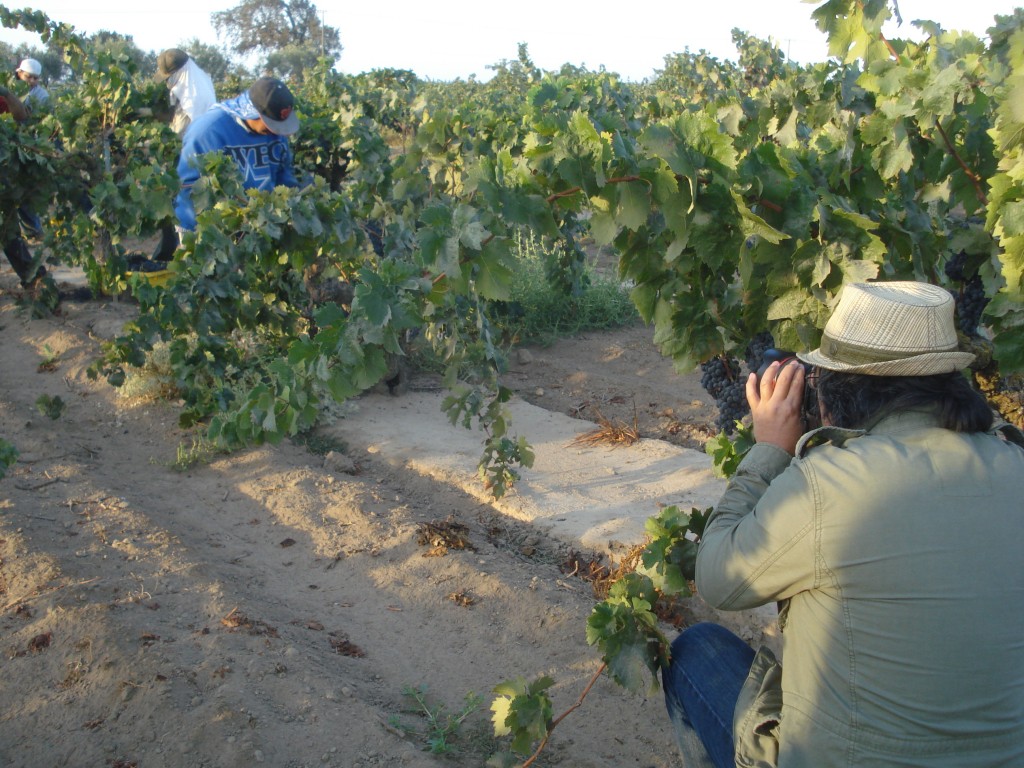 We gave noted writer Randy Caparoso a taste back in September, and in an excellent profile titled "
Mystery wine for the ages: the 2010 Borra Heritage red
"
(

PDF

)
, he wrote:
"It is unequivocally, deliciously and deliriously fantastic – a red wine for the ages – from its almost psychedelic purple colored head down to its deep, saturated toes: compact, concentrated black cherry/raspberry liqueur-like fruit aroma tinged with caraway and whiffs of animal skin and organic, loamy undertones; luscious flavors barely contained by zesty yet viscous textured, medium-full bodied sensations, flowing like proverbial rivers of Babylon."
May Borra's Heritage bless you and yours over the coming holidays! Cheers!
OFFICIAL 2010 HERITAGE RELEASE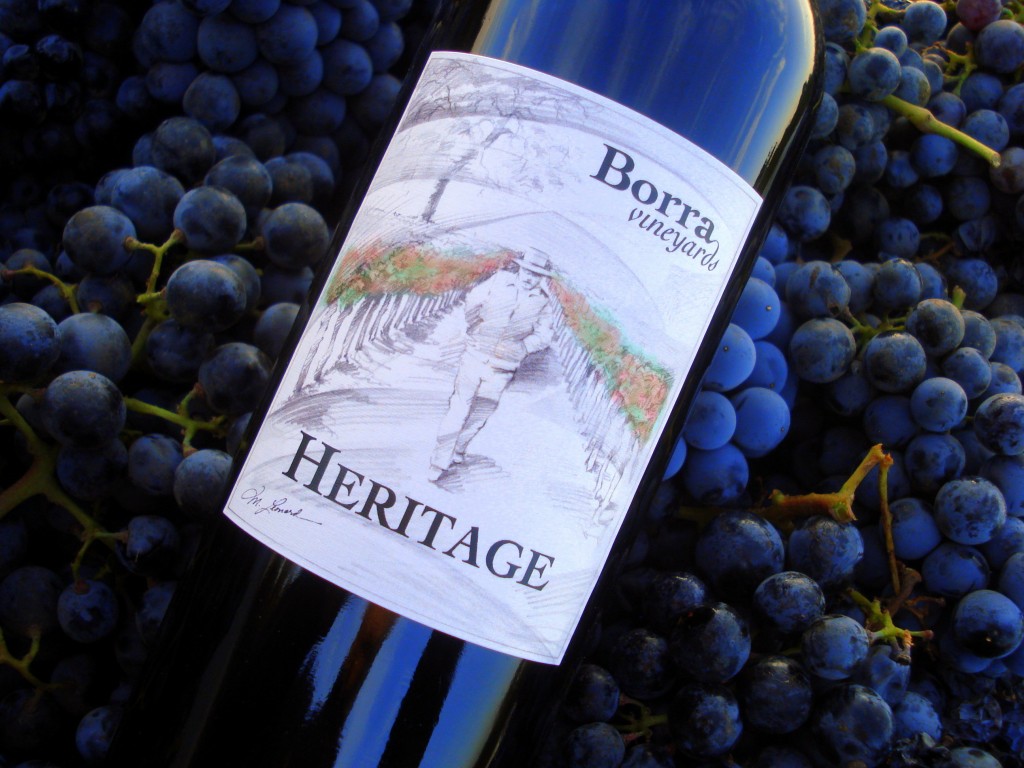 The official release of 2010 Heritage was held at the winery Saturday and Sunday, December 1st-2nd, 2012 from 12 noon to 4 p.m. Please visit us for a taste of our current vintage!
---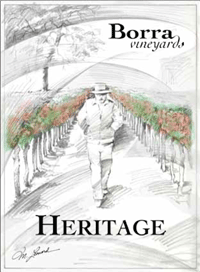 2012 Heritage Field Blend Red
Lodi Appellation, Proprietary Blend
55% Barbera, 14% Carignane, 17% Petite Sirah, 14% Alicante Bouschet
Generations of winegrape farmers used to grow a mix of grape varieties in a field of vines then crush them all together on the same day, creating a "field blend" of beautiful garnet red. The result, as with only the best wines we've tasted, is almost indescribable. Probably because there is much more Barbera in the blend this vintage, the whole arrangement of flavors are so very "red" this time: luscious tart red cherries and dense pomegranate, along with savory slices of roast beef and bacon and a pinch of thyme. (If so moved, feel free to fire up a cigar now.) "Concentrated roundness with mouthwatering acidity of juicy fresh fruit" could sum-up this delicious experience. And for you pro's, using your nose, you'll detect those same flavors in the vapor, along with other spices, like cinnamon and anise. Very versatile with foods, especially great with thyme roasted lamb, duck or virtually any beef topped with a reduction sauce. In many ways, our Heritage is itself a sauce in a glass. 180 cases produced. (01/13/2015)
Regular Price: 25.00