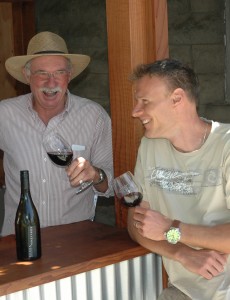 FIRST, A BACKGROUND
Borra Vineyards traces its roots in Lodi back three generations, and the roots go even further back to a small town in Italy. Stephen J. Borra is owner and original winemaker for Borra Vineyards, but the foundation of the winery goes back a hundred years ago to his maternal grandfather.
Over a century ago, Steve's grandfather Giuseppe Manassero embarked on a journey from Carrú, Italy, to begin a new life. He made his way to Lodi, California, where he set out to create something that reminded him of la dolce vita in Italy. And with Italy as his muse, he planted the grapevine cuttings for what was to become a beloved family tradition that has grown into the family business.
Soon Giovenale Borra made the journey from Benevagiena, Italy, and settled in Lodi near his friend Giuseppe, followed by his wife and son Stephen Paul. Giovenale, a barber by trade soon moved the family to Redwood City where he settled and operated Joe's barber Shop. But his son loved visiting the farm in Lodi, and his passion for farming grew there as well. And during his visits to Lodi, he met Lucille Manassero.
Giuseppe's Daughter Lucille, was born, and grew up on the property of the current home of Borra Vineyards. Lucille was the youngest of five children.
Stephen and Lucille married, and the young couple settled on a nearby ranch in Lockeford. It was not long before Stephen Paul and Lucille were raising a family – and a vineyard – of their own. Stephen and Lucille raised two children on the family ranch, and their only son, Stephen Juvenal Borra, is the current owner of Borra Vineyards.
Steve's wife Beverly Bowman was also born on Armstrong Road, directly across the street from the winery today. After marrying in 1966, Steve and Bev saved enough money to follow in his family's footsteps by buying the home and the remaining 30 acres of the family ranch on Armstrong Road, the birthplace of his mother and the spot where his parents had met. It was more than a piece of land, or a vineyard, it was a piece of his family's heritage – one that he could carefully leave to his children and grandchildren.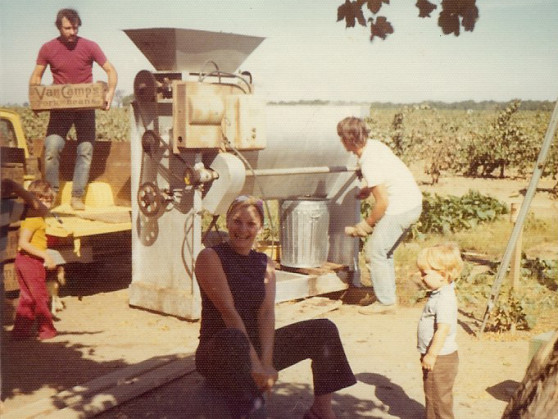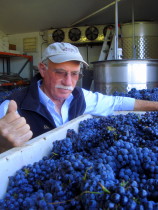 STEVE BORRA
WINEGROWER, OWNER
Stephen J. began making wine for his family in 1967, and the results were quite good. After nearly a decade of success, Steve formally started Borra Vineyards. The winery was bonded in 1975, producing Barbera and Carignane wines from their grapes in Lodi.
In 1992, the Borra family purchased 200 acres of ideal vineyard property that runs along the north bank of the Mokelumne River. Now called the Gill Creek Ranch, the vineyard's terroir produces some of the finest varietals that flourish in the Clements Hills area of the Lodi Appellation. The hills of this region receive an extra dose of the cooling winds from San Francisco Bay, and the grapes have a freshness of flavor that makes this among the most popular and renowned sub-appellations in Lodi.
Today, the winery is still located at the Armstrong Road ranch site. We have available a wide variety of wines to please the most wine savvy consumer. The desire to grow grapes and produce wine now runs four generations deep on both sides of the Borra family with a passion that seems to grow stronger with each new era.
The Borra's continue to live at the home ranch on Armstrong Road flanked by their grown children and their families on nearby, adjacent ranches. We invite you to join us at the home ranch in Lodi to taste our new generation of wines and share a toast to the amazing history that went into creating our favorite wines.
MARKUS NIGGLI
WINEMAKER, SALES
Swiss-born Markus Niggli was brought on by Steve Borra in 2006 to handle the cellar, but he quickly climbed the ladder to Winemaker in 2010. Markus was an early believer in natural winemaking with a goal of expressing the vineyard and each vintage as authentically as possible, ultimately resulting in his critically-successful fresh and racy whites, such as Intuition and his own Markus Wine Co. wines. These show his European influence with higher acidity, rather than the typical rich, full-bodied California style.
He's made a fan in noted wine writer Randy Caparoso, who wrote: "Borra now produces the most 'contemporary' style wines grown in Lodi today, period."
Specifically regarding the 2011 Intuition, W. Blake Gray wrote: "This is a great wine, one of the best California white wines I've tasted this year. It's delicious. And complex. And constantly interesting. Every sip was worth savoring. And it was even more delicious the second day."
But Markus does much more than make about 5,000 cases of wine each year. He works with designers to come up with new labels; manages the cellar and tasting room staff; and most importantly handles all wholesale and direct wine sales.
Pre-wine, there's a depth of travel-industry sales and management experience that Markus picked up from American Airlines and from what is now the world's leading tour operator, Kuoni Travel, based in his native Switzerland. At one point he was managing up to 75 people.
But travel is a brutal industry, which lead him to places such as Perth on the west coast of Australia, where he landed a position working both in the cellar and vineyard for Edgecombe Brothers, before moving on to Napa's Atlas Peak and then Borra.