We heartily welcome our friends from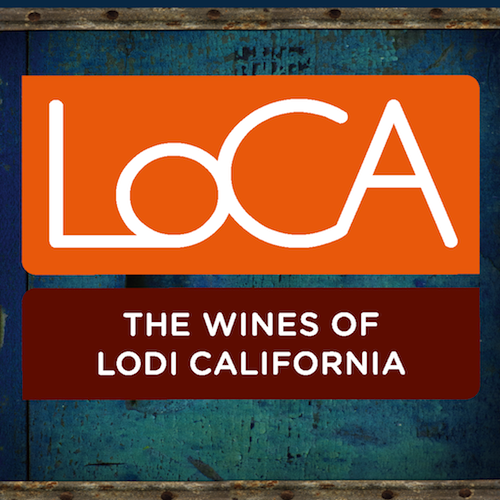 and to all of you participating in the April 30th Virtual Tasting!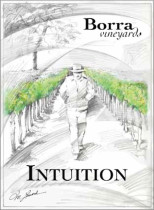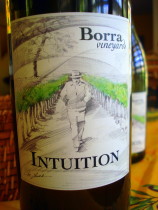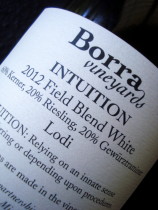 MORE ON OUR 2012 INTUITION…
By now you've either tried – or been irresistibly tempted to try – our 2012 Intuition.
It's a pretty nice wine, if we do say so ourselves, made from 60% Kerner, 20% Riesling, and 20% Gewürztraminer, all grown right along the Mokelumne River that cools the heart of Lodi. In fact, there were catfish swimming among the vines one year when the water district let a bit too much water out of the upstream dam!
We know you may be thinking that you can't grow traditional cold-climate German grapes in Lodi. We hope to shatter that myth with this racy and refreshing white.
What you get is a beguiling arrangement of honeyed vanilla peach custard scents with traces of white pepper and lemonness that turn vivid and alive with a sip, revealing lemons, limes and peaches concentrating into a finish of intense juicy pineapple and oil of orange zest. All of these work together in excellent dry harmonic balance to please even the most demanding chef.
We've got a white to marry with all those spicy foods that normally vanquish the best cellar selections. Spice up a simple baked potato, or go for shrimp spring rolls dipped in spicy peanut sauce – anything spicy and Asian.
And we only made 2,400 bottles (that's 200 cases bottled June 17, 2013), which is pretty paltry-scarce in the wine world. More than half of those are already sold, so order yours now:
THE DEAL: One penny shipping for 3-Packs!
Intuition Field Blend White 2012 3-Pack
Lodi Appellation
$66.00 for three 750mL bottles, ships for one penny for ground service
(Hint: you can fiddle with our shopping cart to get more for a penny each at checkout.)

You might also want a sampler of our racier wines:
Borra's Racy Sampler 3-Pack
All Lodi Appellation
$66.00 for
one 2011 Intuition Field Blend White 750mL bottle,
one 2013 Artist Series Nuvola 750mL bottle, and
one 2011 Heritage Field Blend Red 750mL bottle
All ships for one penny for ground service
(You can fiddle with our shopping cart with this one, too.)
Here's some info about the other wines in the sampler…
Artist Series Nuvola 2013

Lodi Appellation
100% Gewürztraminer

Gewürztraminer in the U.S. has had a reputation for being cloyingly sweet. So you'll be pleasantly surprised by winemaker Markus Niggli's dry take on this German classic, and even more surprised to learn that this is 100% pure warm-climate Lodi fruit. Taking you right to the cutting edge of what's being poured in the hottest restaurants, Nuvola – Italian for "cloud" – serves up signature flavors of lychee, but with a healthy lemon twist bringing an exciting liveliness, accompanied by delicate honeysuckle and the skin of green apple on top of refreshing salty minerality. For an incredible pairing, we'd ask for a big bowl of creamy Butternut Squash soup topped with whisps of toasted onions and a dollop of crème fraiche. 71 cases produced. (03/09/2014)

Regular Price: $18.99
Download Tasting Notes

Heritage Field Blend Red 2011

Lodi Appellation, Proprietary Blend
36% Barbera, 32% Carignane, 30% Petite Sirah, 2% Zinfandel

Generations of winegrape farmers used to grow a mix of interspersed grape varieties in a field of vines then crush them all together on the same day, creating a "field blend" of beautiful garnet red. The result, as with only the best wines we've tasted, is almost indescribable. Deep and wild fragrances of rich juicy plums and black cherries shift untamed in a tapestry of smoky bacon and cola with perhaps some leather or earth. Luscious black cherries and the concentrated essence of brambly blackberries deliver a lively tartness as you'd find near the pit of a plum. These flavors dance in an exciting enticing balance for minutes before resolving into cedar and violets. Very versatile with foods, especially great with rosemary roasted lamb, duck or virtually any beef topped with a reduction sauce. In many ways, our Heritage is itself a sauce in a glass. 180 cases produced. (07/17/2013)

Read much more on our blog "The Start of Our New Heritage."

Regular Price: $25.00
Download Tasting Notes
And if you just want one or two bottles for regular shipping rates, that's fine too:
Intuition Field Blend White 2012
Lodi Appellation
$22.00 for 750mL bottle Read about the inspiration behind the Intuition blend on our blog
here
, and about the label design on our blog
here
.
Cheers!